Whirlwynd - P420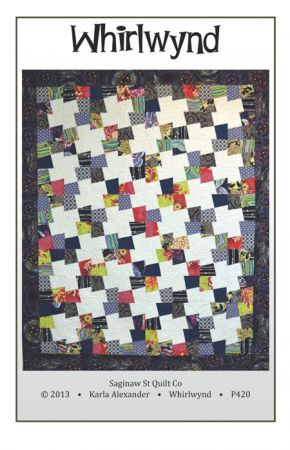 This quilt is square friendly, meaning if you happen to have a fabric stash, you can dive in and simply start cutting squares. Choose a variety of your favorite light and dark colors then refer to the quantities listed below. I used the same fabric throughout the quilt for the light however, if you are working from your stash you can use as many different prints as you'd like. If you have the specialty ruler Straight out of Line, you can also choose to begin with squares anywhere from 3" to 10", increasing or decreasing the overall size of your project. The blocks are simply crooked 4 patches with the only matching seam nested in the center and once complete, the blocks are all trimmed to the same size. Enjoy!
Suggested Ruler: Straight out of Line, CGRKA3 by Creative Grids
The instructions in this pattern will guide you though the cutting process with or without the ruler; however, using the ruler will provide you with the perfect cut every time.
$9.00
This item is available for purchase. I accept PayPal, cash, check, or money order. If paying by cash, check, or money order please contact me. To pay by PayPal, click the buy button below.