Run For Color - P403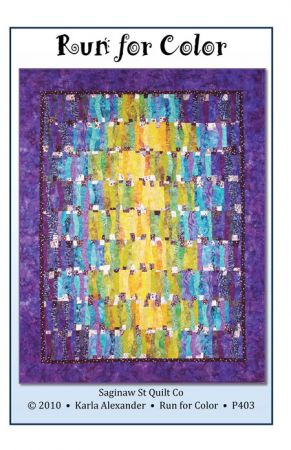 To achieve the awesome color effect for this quilt I used many different prints. I enjoy working from my stash, pulling in prints as I go. This is all a lot of fun – that is until I write the pattern and attempt to explain fabric requirements! With that in mind, the list below definitely has excess of certain colors (mainly gold). So, you can choose to cut individual rectangles for each color way from your stash or purchase the number of fat quarters listed in Materials List.
Suggested Ruler: Curved Slotted Ruler, CGKA4 by Creative Grids
The instructions in this pattern will guide you through the cutting process WITH or WITHOUT the ruler; however, using the ruler will provide you with the perfect cut every time as well as the option to choose many different block sizes.
$9.50
This item is available for purchase. I accept PayPal, cash, check, or money order. If paying by cash, check, or money order please contact me. To pay by PayPal, click the buy button below.