Old Glory - P500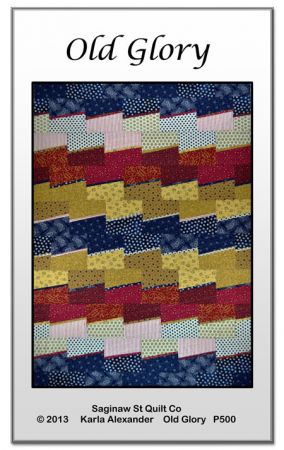 If you like the thought of scrappy quilts or working from your fabric stash, you'll love this project! Purchase yardage from your favorite Quilt Shop or work from your stash, fabric requirements for both are listed below. You will also have the option of two great layout possibilities to choose from, see inside pattern. AND, if you have access to my Straight Out of Line ruler, you can change the size of the quilt by simply starting with larger or smaller squares. The overall finished size of the block will shrink 1/2" from the original square size.
Cutting instructions will guide you through the cutting process with or without the use of my specialty ruler Straight out of Line, however, using the ruler will provide you with the perfect cut every time. Enjoy!
Creative Grids CGRKA3 Ruler Straight Out of Line
$5.00
This item is available for purchase. I accept PayPal, cash, check, or money order. If paying by cash, check, or money order please contact me. To pay by PayPal, click the buy button below.